This is what we do best: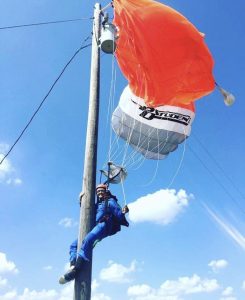 What is an expert witness? – Skydiving and parachuting expert witnesses are experienced, parachute instructors and examiners with a wealth of experience and qualifications. As professional civilian and military parachutist, we have strong credibility and experience with an encyclopedic knowledge of parachuting operations worldwide. Parachute training and parachute rigging are vital parts of the sport, as an improper knowledge of how to operate a parachute can result in accidents or even death. Parachuting is a high-risk activity in both the civilian and military world. There is a chance of unforeseen incidents in skydiving. Military parachuting and skydiving are prone to safety-related issues, as there are strict rules and regulations involved with training and the equipment being utilised.
No matter which type of military parachuting or skydiving activity you are participating in, whether it is Military static line, student static line,  accelerated free-fall, solo, or tandem jump, you must be effectively trained in preventing any skydiving accidents from occurring. In terms of recreation and sports, skydiving has far more rules and compliance, requiring that the trainer be licensed in the field. There are, in fact, several different classes of skydiving and parachutist licenses and certification, depending on which form of the sport you are participating or training in.
Lawsuits in skydiving are usually the result of accident or death, which can involve the skydivers or bystanders on the ground. It is important to prevent such incidents with proper preparedness and instruction, as well as using safe and efficient equipment and flying jump aircraft. Accident reconstruction and investigation, as well as failure analysis, may become relevant in the event of a court case.
What is a Parachuting Expert witness:
The primary function of an expert witness is to express his independent expert opinion based on the information that is provided.
A witness is a person giving sworn evidence to a tribunal or court of law. There are basically two types of witness:
Witnesses of Fact who may give evidence of fact but may not normally give opinions;
Expert Witnesses who may give opinion evidence within their expertise and in addition evidence of facts.
What is a parachuting Expert Witness? A Parachuting Expert Witness can be anyone with knowledge or experience of a particular field, in this case Parachuting beyond that to be expected of a layman. The Parachuting Expert Witness's duty is to give to the Court or tribunal an impartial opinion on particular aspects of matters within his expertise which are in dispute. In England & Wales and many other jurisdictions, the Court must give permission for an Expert Witness to give evidence.
An Expert Witness is not an expert adviser who is normally appointed by a party to assist in the formulation and preparation of a party's claim or defence. An expert adviser does not have an overriding duty to the court but to the party instructing him.
An Expert Witness will:
Provide an independent expert opinion in their area of expertise on the subject matter in accordance with the instructions they are given. These instructions will be shown in the Expert Witness's Report which will be seen by the other side and the Court.
Provide the opinion in the form of a report and/or evidence before a Court (or other tribunals) as required. The report is required as it is not usually possible for the Expert to give evidence without it.
Ensure the Expert's Report provided to you contains the information required by the Court Rules. If you proceed you will have to give a copy of the report to the other side in the dispute. At that time a copy of the other side's Expert's Report will be given to you.
Comply with the specific procedure rules applicable and any Court or tribunal Orders in the case.
Provide truthful, impartial and independent opinions whether or not these opinions favour your case.
An expert witness has an overriding duty to the Court (or other tribunals). This duty supersedes any duty owed to you even though you are still responsible for paying the expert's fees.
The Court expects an expert witness to be independent and impartial and will discount the evidence of one who is or is seen to be partisan.
Types of Expert Witness:
In England & Wales, there are three types of Experts
Party Appointed Expert (PAE): The expert witness is appointed and instructed by one of the parties in the dispute. The primary duty is to assist the Court on the matters within his expertise and this duty overrides any obligation to the party from whom he has received instructions or by whom he is paid.
Single Joint Expert (SJE): The expert witness is appointed and instructed by the parties involved in the dispute. The primary duty is to assist the Court on the matters within his expertise and this duty overrides any obligation to the parties from whom he has received instructions or by whom he is paid.
Expert Adviser (Shadow Expert): The Expert is appointed by one of the parties to advise them in the dispute. This type of Expert is not covered by the Civil Procedure Rules and does not have a duty to the court and will not normally give evidence.
When are expert witnesses used:
An Expert Witness is required when it is necessary to have opinion evidence to assist in the resolution of a dispute. This opinion may lead to an early resolution of the dispute. An Expert Witness may be involved in court proceedings and may be called to give evidence.
The current rules encourage the use of a Single Joint Expert who is instructed by all the parties in the dispute to provide an opinion on the issue in proceedings. However, it is still possible to have an expert witness who is appointed by one party (party-appointed expert). The duty of either an SJE or PAE is the same name an overriding duty to assist the Court. Once a report has been produced it is open to the parties to ask questions on any aspect of the report and the expert is required to respond provided they are for clarification purposes. The report and any answers are given then form part of the evidence before the court and are used by them to assist in making a judgement.